"BIDESIA" – THE FOLK THEATRE OF EASTERN INDIA
In the twentieth century of the emergence of the folk theatre, the dance form that is popularly known as 'Bidesia' in the state of Bihar had evolved. The theme of Bidesia rests on many topics which are related to the social structure of the community as well as focuses on the contradictory topics such as the difference between the traditional and the modern way of living. This is one of the traditional dance forms.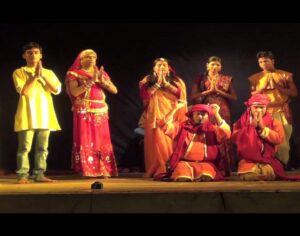 History
The dance form was originally from Bihar.
The dancers wear hear extensions and also dress up in trendy trousers or Dhoti.  The musical instruments which are used are the Dhol, the sarangi, the Khartal, Reed organ and the Dholak.
In order to preserve the Indian theatre, the organisation known as the National School of Drama began in India in the year 1950.The Government took the action to stop the fading out of the Indian theatre.  The folk theatres were appearing unrefined and technically backward when compared to the modern theatre. Therefore, the Indian theatre had to take action and bring up the National school of Drama to prevent the folk form of drama dying out.
The performance
The Bidesia themes mainly focussed on the struggles of the common people and hence brought about a social awareness in the minds of the people.  It is sarcastic and entertaining at the same time. It was even very entertaining and popular. The songs were based on the plight of the women who were living with in-laws and were treated miserably while the husband was away in search of livelihood.
The Bidesia themes always were heart touching which were based on the lives of poor labourers, and the sad and wretched state of being of the Bhojpuri women. The Bidesia even threw light on various evils of the society like the caste system and communalism seen in the society. The dance drama purely reflects on the condition of the Bhojpuri society. The songs and the lyrics in the songs are relatable to the themes which they are based on.
The Bidesia dance is characterised by the roles of the females played by the male actors. Therefore the male actors use hair extensions for the look of a woman. Though at present the technology has emerged and means of communication is highly developed, still the Bidesia is admired by the Bhojpuri people.
To learn classical dance or classical music online, please contact us at Kalapeet.