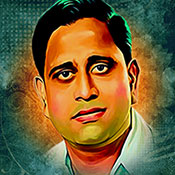 Ghantasala Venkateswara Rao was a not only popular South Indian singer and music composer for  Telugu films and few other Indian language films. He bagged the Padmashree award. For 25 years, he was the voice of Telugu films. And playback singer for Telugu movies. His father Gantasala Suryayaa was a local singer`. His maternal uncle Ryali Pitchi Ramaiah. He was trained from Sri Patraayani Sitarama Shastri and joined music college in Vijayanagram without informing his family. He participated in the Quit  India movement in 1942. He was in jail for 18 months in Alipore jail.
He was a chorus singer and played an extra character in Seetha Rama Jananam. He sang for many actors for the next 20 years. He knew the technique of changing the voice pitch and diction to be suitable to the actors. People who were his fans imagined the hero of the movie by listening to his songs on the radio.
He directed the music for Manadesam and later composed music for Patala Bhairavi, Gundamma katha, Paramanadiah Sishyula Katha, Pelli Chesi Chudu, Mayabazar, and Lava kusa.
He also served as the Aaasthana Gaayaka(court musician)for the Tirumala Tirupati Devasthanams. He was also a recipient of the Padma Shri. The famous renderings of Ghantasala Venkateswara Rao also include private albums, like BhagawadGita, Patriotic Songs, Padyalu (a unique genre of Telugu – singing the verses in dramatic style), Pushpa Vilapam, and folk songs. Gifted with what V.A.K.Ranga Rao called "The most majestic voice", and he helped Telugu film music develop its own distinct character.
(Source: http://en.wikipedia.org/wiki/Ghantasala_Venkateswara_Rao )