The acts of Lord Krishna were written in the language of Brajavali. Ankia Naat is performed by the artists in one act it is called Bhaona which is written in a language that is a mixture of Assamese-Mythili and mainly focuses on the acts of Lord Krishna.
Singers, instruments, dance, and costumes are the main features of this dance. The dancers wear a variety of designed costumes.
The background Ankia Nat comprises of Bhakti movement which gives it a religious dimension.
The theme depends on the interaction of Madhava Deva who was the chief disciple with his master Sankardeva along with his successors is the main theme of the dramas of Ankia Nat. To instigate the message of bhakti among the masses, this dance drama which is also known as Tamasha or Yatra is performed through the medium of art, dance, and drama.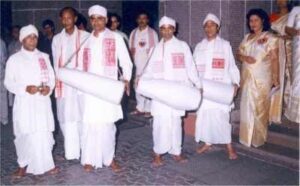 To inculcate bhakti and spread the message of giving voice to the voiceless and strength to the oppressed is the main objective of  Shankara Deva and the other Vaishnavite saints of Assam.
A true scholar is the one who does not discriminate in the caste of a Brahmin and Candela.
The candela who chants the name of God has to be considered as a man of the high caste and who follows all the Vedas.
Presently the live music instrument, dramatic costumes, and dance are the main items that are included in Ankia Nat performances.