Rongali Bihu, Kongali Bihu and Bhogali Bihu are the main Bihu festivals in Assam. Bihu is a folk dance in Assam which is performed during the Bihu festival.
In the year 1694 at Ranghar fields, as per the invitation of Ahom King Rudra Singha, the Bihu dance performers performed the dance on the occasion of Rongali Bihu. This particular festival is regarded as very important and is celebrated in mid-April by both men and women. The dance is unique and marks the beginning of the spring season.
Costumes of Bihu Dance
Spring season arrives the young male and females perform the Bihu dance comprising of swift hand moments and demonstrate their joy. Bright ghamocha for the head and colourfully embroidered dhoti is worn by the male performers whereas the women wear the traditional clothing in Chador and Mekhela.
The clothes have beautiful needlework and patterns on their two ends. The traditional cylindrical-shaped mekhela is worn on the lower half of the body. Chador covers the upper part of the body.
Silk, cotton and muga silk are used to make the outfits. The women decorate their braids with beautiful flowers and jewellery which match the colour of the clothes worn by them.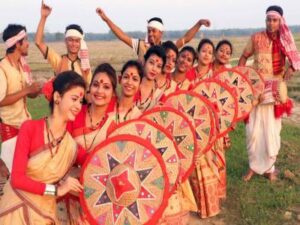 Musical Instruments of Bihu Dance
The Bihu performance requires many musical instruments which are: taal, toka, khole, pepa.
Eye-catching Bihu performance is celebrated as a heritage of Assamese people cherishing the harvest and it goes on for a month.
Bihu dance was performed at the Olympics in the year 2012 by a professional dance group.