The Bardo Chham folk dance is a very important  folk  dance  among the tribes of Arunachal Pradesh. The dance is performed during festivals. Thousands of years of ancient traditions are preserved by the primitive tribal communities who live in the Himalayas. The tough lifestyle of these tribal people made them able to choreograph these folk dances. The Igu dance of mishmi clergymen which is the ritualistic performance of the Buddhist tribe.
The sherdukpens who depend on the Buddhist fraternities follow the Mahayana system ofthe Buddhism. This tribe descended from the Tibeto-Burman origin they are a minor tribal community whose folk dance display triumph of good over evil.
Music, Movement and Style
The traditional worship is associated with the agricultural activities as well as the seasonal cycle. The tribal people believe that with the beat of drums they can eradicate the evil which has accumulated over a period of time. The shedrukpens dance is performed both by men and women. They still follow the practice of worshipping the sun and moon and their festivals and rituals are related to the forces of nature.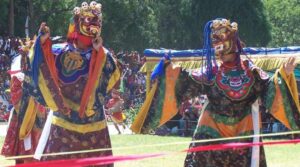 The Shedrukpens in tribal dances wear colourful masks and enact the dance of the zodiac.The fight between good and evil is enacted by the performers bringing joy in the community.