Overview
The Aryan Immigrants introduced this dance to Kerala. It is performed by the Chakiar caste members. The Hindus of the higher castes only can witness this highly orthodox entertainment. Koothambalam is the theatre in the temples where this dance is performed.
The dance
With elaborate hand gestures and dramatic facial expressions, the story is recited in a quasi-dramatic style distinguished by eloquent declarations.
Musical instruments
The cymbals and Mizhavu which is made of copper with a narrow mouth that has a piece of parchment stretched over it, are the musical instruments.
Costume
The headgear, shaped like a snake's head, is the main part of the Chakyar's costume. The body of the dancer is smeared with a paste of sandalwood and Vibhuthi and his face is made very catchy with vibrant colors.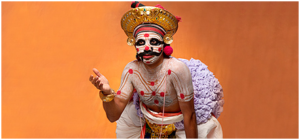 The Performance
The male members of the Chakyar community mainly perform this dance. The Nangiyar Koothu that is a renowned theatre art is a refined version of the Chakyar Koothu dance that is performed by the women in the Nambiar community.
The Nangiyar Koothu is accompanied by the instruments called a Mizhavu and a pair of Ilathalam.