History of the dance
Mohiniattam has evolved from the state of Kerala, India. It is an Indian classical dance form as popular as Kathakali. Mohiniattam's roots are derived from the ancient Sanskrit Hindu text 'Natya Shastra' which means performing arts. Mohiniattam is connected to Lasya which is more graceful and showcases a gentle and feminine form of dancing. IT is named after a female avatar of Lord Vishnu known as 'Mohini'.The female artists perform solo dance and display their emotions through dancing and singing.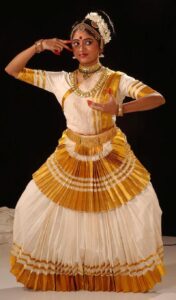 Music and Instruments
For the background, Manipravala, a song which is a mix of Sanskrit and Malayalam language is sung by the artist herself or a vocalist may sing in Carnatic style.
The Instruments that are used incorporate different rhythms of Manipravala that is a mix of Sanskrit and Malayalam language. The Kuzhitalam (cymbals); Veena; Idakka Mridangam; and flute.
Costume
The costume for the Mohiniattam is very attractive with a white or off-white saree which is adorned with bright golden or gold laced colored brocade embroidered in its borders complemented with a matching choli or blouse. From the waist down the front part of the saree shows a pleated cloth having concentric golden or saffron-colored bands and also a golden belt is worn around the waist. This enhances the look and allows the artist to dance flexibly performing awesome footwork. The audience watches the dance with awe. The jewelry the artist wears is the musical anklets called Ghungru which are wrapped in their ankles; accessories for her head, hair, ears, neck, wrist, and fingers. The Ghungroo produces rhythmic sound and the artist dances with excellent footwork. The artist's hands appear bright red with natural dye to spotlight the gestures made by hands.
Makeup
The dancer wears a red color lipstick with eyes lined prominently to enhance her eye movements. She wears a tikka on her forehead and puts on light make up. her hair decorated beautifully with a ring of jasmine flowers around the bun which is tied to the left side.
If you wish to learn any kind of dance or playing a musical instrument, please contact us at Kalapeet.