The Kanjar tribe performs one of the most popular folk dances named Chakri. In Hindi, the word Chakri means Chakkar which means Circular rotation. The Kota and Baran districts of Rajasthan is inhabited by the Kanjar tribe. In the Haroti region of Rajasthan, Chakri dance is commonly performed in marriage celebrations and festivals. This tribal dance is performed by the women belonging to the Kanjar tribe as they earn their living through this dance. This folk dance became very famous among the tribal people of Baran and Kota but slowly it spread its fame throughout Rajasthan. the tribe of Madhya Pradesh called Beriyas are famous for their Raai Dance which is similar to the Chakri dance. This dance has gained its popularity even in places nearby Chhipa Barod.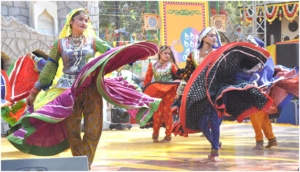 With the beats of the Dholak the fast and vigorous spinning movements of the Chakri dance are admired by the audience. The male performer is on the Dholak producing robust rhythm while the dancers perform the dance. Traditional songs are sung by a group of traditional singers while the women dance. The instruments which are used to produce the music are the Dholak and Nagara. The clothes are fashioned in such a way that they spin and the costume looks like a circular ring, thus making it really attractive to watch.
Are you interested to learn dance online? Please contact us at Kalapeet.