The Dandiya Raas is a special traditional dance performed in honour of the Goddess Durga. It commemorates the victory of the Goddess over the evil Mahishasura. The dandiya represents the sword. The scenes of the battle are enacted and re-created. The audience witness the battle between Devi and demon in awe.
This awesome dance is known as the sword dance as the colourful sticks of the dandiya are portrayed as the sword. the clanging of the musical instruments is similar to the metallic sounds produced by the clashing of the swords. When compared to the Garbaa, this dance has more difficult movements.
The costume which is known as chaniyaa choli, the dandiyas and the Garba dance are  the main components of the Navrathri.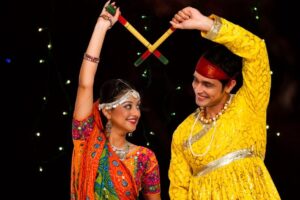 The singers and the musicians playing the Dhol with the dandiya create the important essence of the occasion. The drum beat, the rhythm of the dandiya collide together and produce the vibrating effect of the occasion.
The theme of this dance being the battle between the Goddess and the Mahishasura the demon is displayed in a magnificent way. The children, adults and the old people altogether participate in the navrathri with a lot of devotion and honour for Durga.
The Garba is the dance performed before Aarti while the Dandiya is perfomeed after Aarti. Both men and women together enjoy the occasion.