In order to to complement the the rhythm of the dance,  the dancers wear ghungroo which is made of several metal bells that are strung together.
The ghungroo are used in many folk dances and even in bhajans and abhang to give the additional rhythmic touch.
The old ghungroos were made by arranging the metallic bells on a velvet patch of cloth for the comfort of the dancer. To produce the resonating music effect, the ghungroos are arranged on a disc to produce different notes of of music.
The ghungroo vary in composition and size and they produce the musical effect in the dance and also make the dance more graceful.
The ghungroo used to be worn by classical dances and also courtesans for dancing. Therefore the ghungroo were not worn by common women due to societal barriers. But the the royal women were fascinated by the ghungroo. As they were afraid of the society, they improvised the ghungroo to a very sleek and trendy manner known as Payal. Parda system encouraged wearing of the Payal because the sound of it marked the presence of a woman.
Through literature and cinema ghungroo developed its own image. It was the ornament used by dancers of Bharatanatyam, Kuchipudi, and Kathak. In the Indian cinemas, it used to adorn courtesans feat. For example Umrao Jaan and Mughal-e-Azam.
.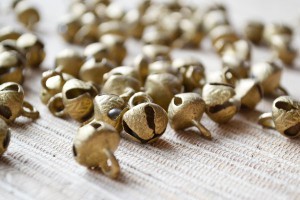 Ghungroo was worn to adorn the foot movements with musical cham. So to produce the sound effect each ghungroo was made in different way. The intensity of the foot movements of particular dances has become the crowning glory of the ghungru. In a string more than 200 bells may be present. The number of of bells added, increased the sound intensity.
The Payal is a sleek version of the ghungroo. Eventually, the Payal became a very intricate and most adorned piece of jewellery. They are made out of gold and silver and few of them have gems embedded in different designs the Payal are transformed into anklets passing to the next generations. The thin anklets are worn as a pair by the girls but nowadays a single anklet this also so remarkable of trending fashion some of the anklets don't even contain bells they are just used as an ornament.