Hikat, danced by women, is a modification of a game played by children. Forming pairs, the participants extend their arms to the front gripping each other's wrists and with the body inclined back, go round and round at the same spot.
    A game played by children is modified and named 'Hikat' which is a popular dance of the women of Himachal Pradesh. The women with their bodies inclined back, go round and round, gripping each other wrists with their arms extended forward, at the same spot. Hikat a way of expression of the people of Himachal. The people are always ready to embellish themselves for the dance throughout the region of Himachal Pradesh which is a place of natural beauty.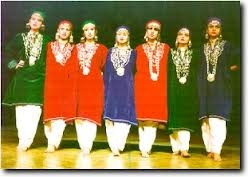 The Himachal Pradesh is considered a place of art with sizzling landscapes that truly garland the passion for dance in this land. During the celebrations of Dussehra the festive season is accompanied by singing and dancing around a collection of Raghunathji images which are brought from different temples around the place. Different occasions call out for various dances. Each and every festival and social ceremony compulsorily include a special dance.