One of the extravagant dances of the land of Punjab is popularly known as Giddha-a folk dance of women. This dance includes the rustic energy seen in the Bhangra dance. Giddha is one of the ancient dances of India which is known as the ring dance. this dance showcases feminity gracefully with a lot of elegance. the Giddha dance is mostly copied throughout India because of its colorfully live spirit. during grand occasions, the women perform this dance.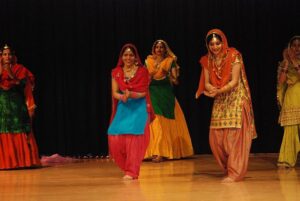 This dance form includes clapping rhythmically, and also a traditional song is sung by the aged ladies in the background. this dance differs from the other dances because it doesn't include the barrel or the dhol drum for the beats. the clapping of the women circulates and creates a rhythm and is accompanied by a lead woman reciting lyrics or boli and this 'boli' is repeated by the other dancers in the circle.
To learn dance online, contact us  at Kalapeet.