Overview
One of the most popular dances of Haryana is the Khoria dance which is a little similar to the Jhumar dance. It is performed by the women folk in central Haryana. One of the striking features of this dance it is the fastest dance among all the others. For the occasions like weddings or functions, this is considered as the best folk dances to be performed.
History
The women perform the dance in a very graceful manner due to rigorous practice. This dance has come into practice since marriage came into existence in our human society and culture. Therefore it is considered to be one of the ancient dances.
Dressing
The attire plays a major role in attracting the audience. The women dress up elegantly with brightly coloured drapery which is complemented with gold and silver embroidery.  The jewellery gives a sparkling glow to the performers. This heavy jewellery and dressing adds vibe to the dance and the artist look very grand.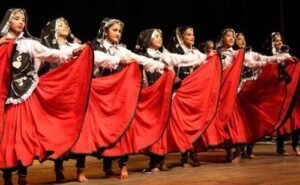 Performance
At first the women twirl and take their positions on the stage with slow movements along with he rhythm.  Slowly the tempo becomes faster and the dancers perform with an increase in steps along with the speed.  Then at a certain point of the dance, the women split into separate groups and get into a different formation.  The dancers split into duos or trios and start the beautiful display of their dance with swift movements of spinning. As they are spinning at a high speed, it is the skill of the performer to maintain the balance while spinning at a great speed. Then the dancers at the centre continue their swift whirling movements. Meanwhile the other dancers pave way to the couple to come into the spotlight and encourage them by applauding.
Since the marriage arrangements are made by the bride at their residence, it takes a long time to complete all the formalities, therefore the Khoria dance is performed to keep the guests or audience engaged and entertained. This is a very good entertainment offered to  the guests. Even the characters of the bride and the groom are portrayed like a scene and hence the joy in the marriage is beautifully expressed. Thus Khoria dance is a great skilled dance form.
To learn dance online, please contact us at Kalapeet.