The Saang or Swang is a very popular dance form in the state of Haryana. This dance is a regional folkdance in many states like Rajasthan, Madhya Pradesh and Uttar Pradesh. This special folk dance Theme of this dance depends on the Hindu mythology. This beautiful dance form emerged form the Malwa region. This dance is performed on stage like a theater. There is a script made for the stage performance. This is an extraordinary dance over the boundaries of normal style of dancing sometimes without music.
The dance form involves wonderful subjects which spread social awareness through mimicry for which the scripts are based on folk tales, fables and legends. This performance is also called as 'nakalkarna' or 'rang bharna' in local dialect.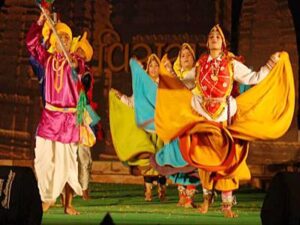 The nautanki style or kirtan style of this dance form for invented by Dip Chand Bharman one of the most popular poet of Haryana. He even designed the traditional song and dance of the folklore along with the costume.
if you are interested to learn dance, or music , or to play musical instrument, please feel to contact us at Kalapeet. We provide online classes for dance, music or for playing any musical instrument.