Kuchipudi is a dance form which is named after the village Kuchelapuram, AP. It started from the Bhakti movement in the 17th century. Sidhendra Yogi in the 14th century gave a new direction to Kuchipudi. It was actually the dance of the males who traveled from village to village enacting stories related to Hindu mythology. Vempati Chinna Satyam and Vedantam Laxmi Narayana Shastry have modified and refined Kuchipudi to its present form the late Vedantam Laxminarayana Shastry.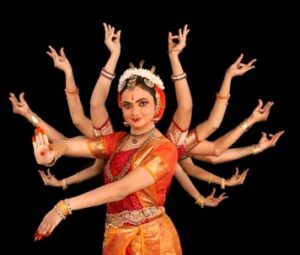 Kuchipudi consists of fast and rhythmic movements along with fluid movements which create a blend of strength and delicacy.it has emerged from Kuchipudi Yakshagana which was systemized by Siddendra Yogi who lived in the 17th century . it is named after village Kuchipudi. It can be performed as a group as well as a solo item also.
Kuchipudi was regarded as a highly esteemed dramatic dance form by the rules of the Deccan and Tana Shah grated lands for Kuchipudi dancers who were Brahmins.
The dancers even had social and political power and even included play as well as social commentary. Through the play, the dancers indicated that the people were abused by the raja but at times the dancers even required the protection of the army.
Vempati Chinna Satyam, C.R Acharyalu, and Dr. Natraja Ramakrishna molded the Kuchipudi to its present form in the 20th century.