One of the living performance art is Bharathanatyam which is widely practiced. It expresses human emotions in stylized storytelling. The pieces of evidence are as old as 3000 years old. It has retained its devotional component and moved from temples to theatres over time.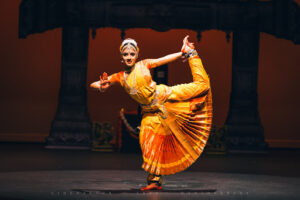 The word Bhava means emotion; raga means melody; tala means rhythm and naytam means dance.
The dance is divided into nrita the purer dance which has hand movements and gestures along with expressions. There are several methods of acting and gestures.
The attire is similar to a Hindu Tamil bride consisting of a sari with stitched pleats falling in the front from the waist. The footwork includes stretching and bending knees which widens the cloth like a hand fan.
Traditional jewelry includes jewelry for the head, nose, ear, and neck, and eyes are highlighted so that the expressions are seen properly. Hair is dressed and adorned with beautiful flowers. The anklets or ghunghru are made of leather straps. The henna brightened hands and feet highlight the gestures of her hands.
The song has a varying devotional content which expresses the love between man or woman and god; sringara – the romance between man and woman considered as a yearning of the jeevatma or human soul for the pramatma or the universal soul.
Recently even contemporary themes are added to these classical music compositions. Even it is expanded to different languages like Hindi and dialects, Marathi and Bengali.