Mandolin is an eight-stringed instrument and resembles the lute and it first emerged in the 18th century in Italy. It ranges from classical to bluegrass and to jazz it covers all styles of music. It evolved from Mandora in the 16th century. Mandolin first appeared in Naples, Italy in the mid-1700s.
It was named as Mandorla or almond in the 15th century in Italy. It was only four or five-stringed instrument.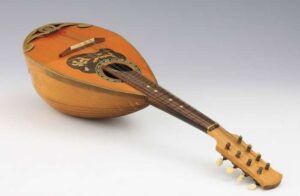 The mandolin has gut stings on its body which is carved from a single wooden piece and it is in the shape of a pear. The tone of the mandolin is very sweet. A new instrument named Mandorlino or little Mandola was created in 1600-1750 (Baroque period). It is different from the lute which is harmonic and produces a great melody.
In the United States, the modern mandolin in the round back design was in European style which is developed from mandolin between 1750 to 1850. The standard design of the instrument was made by Pasquale Vinaccia.
It comprises a bent soundboard, a raised fretboard, and more frets as well as 8 metal strings.
The strings are in two sets tuned to exactly the same pitch. The strings of the violin are named G, D, A, and E from low to high. Antonio Vivaldi composed the music for the mandolin.
Wolfgang Amadeus Mozart also composed music for the mandolin. The mandolin is of the greatest regard as it has a limitless array of musical styles.