Ojapali is a dance that involves song, dance, and drama that is performed by a group of 1 chief performer and 3 to 4 palis therefore it is called Ojapali. A palm-sized symbol is an instrument that is used it is also known as khutitaal. Nupur, silver jewelry, and white gowns with long sleeves are worn by the performers.
The district of Darrang in lower Assam this dance is the most popular. It is also considered of great importance in the districts of Nalbari and Kamrup. In this dance, a combination of dancing gestures, dramatic dialogues, and narrative singing is depicted.
The lead artist and the 3 or 4 palis comprise the ojapali. Daina pali is the right-hand aide and chief among the other palis. He makes the drama interesting using his humorous dialogues.
Malanci geet and jagar songs sung in Sanskrit and also but parasha geet a mixed song composed during Muslim reign are mainly performed in the Ojapali. The rhythmic movement of the feet is displayed by the oja. showing appropriate body movements and facial expressions, the Oja explains the theme. The costume comprises beautiful jewelry, Nupur on the feet, and white long-sleeved gowns.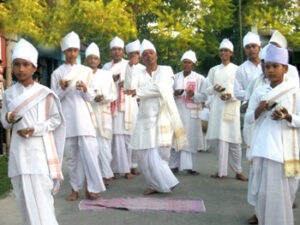 The dance can be of two forms byah ojapali and Sukananni ojapali. Vyasa composed songs are performed by byah  ojapali. The great epics are stressed. The Sukhananni performers are singers who popularly focus on Maroi Puja.
The ancient Assamese poet Sukavi Narayana Dev composed songs of Manasa Dev, the snake goddess and the performers sing these songs.
The epics of Ramayana and Mahabharata legends are mainly focused on through the byah ojapali. Hand and finger movements known as Mudras are performed during which the classical songs based on various ragas are sung. Amusing dialogues and explanations are shown by the performers to make them understand and also offer entertainment.