One of the most important genres of the classical dance forms of India is the Kathakali. It involves storytelling, as well as the dance drama in the southern state of India- God's, own paradise Kerala. The story is narrated in the form of dance through footwork and facial and hand gestures. it includes a variety of make-up, face masks, and costumes and through this martial arts and athletic conventions common in Kerala are depicted. It is actually performed by male dancers in the courts and Hindu theatres. The themes are based on Ramayana and Mahabharata and ancient scriptures called Puranas.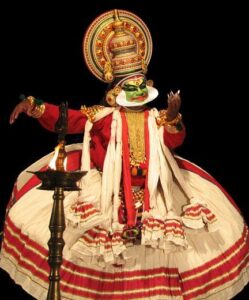 This is a social event that begins at dusk and prolongs throughout the night and is performed by men including the female characters. Nowadays women are also Kathakali dancers. It is an age-old tradition dating back to the 17th century. The founder of the Kerala Kala mandalam was Mahakavi  Vallathol Narayan Menon gave the present form of Kathakali.
The mudras of the hand-gestures convey throughout the story. Carnatic music is similar to the music of kathakali but instruments are different. The instruments like chenda, iddaka and shuddha mandalam are used for the musical effect.