The Bhavai folk dance is accompanied by a lot of balancing activities like balance in 7 to 9 brass pots on the head and also the objects like glass bottles, edge of a sword and brass plates. The brass pots are replaced with a number of other pots. The dance movements  comprise of twirl and swing movements. This folk dance is most common among the tribes of Rajasthan.
The music  is produced by the percussion instruments and stringed instruments. The women are dressed in brightly coloured ghagra cholis and dupattas.
There is a misinterpretation of Bhavai with the Gujarati folk theatre form which is also known as Bhavai. Contemplating the arid climate of the Rajasthan, the performers wear brightly coloured costumes along with ornaments.
The women wear ghagras which are slightly shorter than lehengas which is suitable for free dance movements so that the performers don't trip and fall down. The colours can be selected as per the wish of the performers.
The colours are very bright pink and yellow, red or blue. The blouses are short sleeved so that hand ornaments can be worn extensively. The tie and dye print is used for the costumes as it is very common in Rajasthan.
The ghagra choli  is decorated with a lot of mirror and gota Patti work and even the colourful tassels hang from the sleeves of the blouse or the waist.
This dance requires intense skill of balancing. The traditional folk dance is done by the tribe which is known for its snake charming skill. The art of dancing and also balancing of articles makes this dance an unbeatable one. Up to nine  pots are balanced by the dancers on the head in a single performance which is highly remarkable.
The most exciting part of the dance is walking on a bed of nails, dancing on the rim of a thali and dancing on sharp objects like the sword with the sharper edge facing upwards. The performers balance the soles of their foot on these objects which make the spectators awestruck.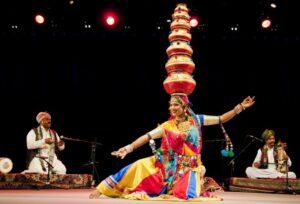 Rajasthan is a state covered with desert the women have to fetch water from a great distance so they carry multiple clay pots at a time in order to save their time . The path is full of thorns and stones therefore the Bhavai got inspiration from this daily activity. The main feature of folk dance is balancing the Terracotta pots on the performer's heads. This dance form has received international recognition out of the 15 dance formats in Rajasthan the Bhavai is most popular.