The garba dance was popularised by Usha, the grand daughter in law of Lord Krishna. It originates in Gujarat. This raas dance is also known as garba dance it is also known as lasya nritya.
The garba originates from a community circle in the North Western part of Gujarat. It even relates to an event it is performed in the villages. The centre of the village along with the entire community participates in the dance.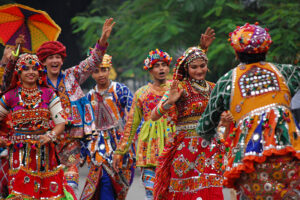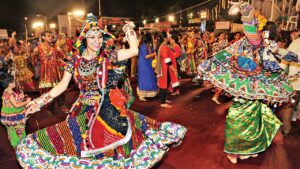 Garba is performed on Navratri which means nine nights during the festival. The nine forms of Durga from Kalratri to the Kushmanda, the festival denotes the different forms of Durga. Both men and women observe the festival by dancing for nine nights starting from the evening till late into night in the honour of Durga. People restrict their food habits and sometimes even fast during the Navratri. Garba is also known as a popular entertainment even at weddings and few occasions.

Garba was a great popular festival among the Hindus in the part of Gujarat. But since the onset of the late 20th century there is a lot of proliferation of the dance and a lot of garba competitions and University dance troupes were being held and garba became notable worldwide.