The Carnatic music is type of music which was not influenced by Arab or the Iran effect. The Carnatic music has more inclination to voice. The music also imitates the singing.  In Carnatic music there are less instrumental forms.
Father of Carnatic music
The south Indian classical Carnatic music was chiefly founded by Purandara Dasa who was a composer and singer. He was referred to as Pitamaha of Carnatic music.
He visited Vijayanagara empire in Karnataka, Tirupati, Pandharapura and died after spending his last years in Hampi. He sang songs devoted to lord Narayana and another devatas.
The Carnatic music is based on seven notes is known as ragas. There are a few restrictions and compulsions regarding the melody. There are 72 modes which are the ragams. They are referred to as Mela the rhythmic foundation of Carnatic music is thalam.
There are many sections in Carnatic performance. Varnam is played at the beginning of recital which means description. It has two parts puvanga and uttaranga. The rag has fixed compositions they are known as Kriti they are well defined. The alapana provides creativeness and also helps to unfold the ragam to the audience. Without mridangam the ragam. Pallavi is played in a free rhythmic melody theme with words with one cycle of tala.
There are a number of sections to the Carnatic
Sruti
Swaram
Ragam
Talam
Compositions are most crucial in Carnatic music.
Carnatic music scope of improvisation and every rendition is unique and is made of the composers vision and musicians interpretation.
The Carnatic music balances itself on Raaga melody formulas and tatalaThe rhythmic cycles. The vocal music is stressed and compositions are mostly sung and even played on instruments.
Another feature of the Carnatic composition is emotion which is conveyed as the compositions are meant to be sung. Composition makes the composers knowledge and personality known to the audience that is why the words are as important as the musical element and this is challenging for the musicians.
Geetams and swarajathis are forms of composition. They are meant for learning purpose.
Varnam
Davanam helps how to approach a certain note and classical and characteristic phrases they are at multiple speeds they are very good for practice they grab the audience attention they are often sung at the beginning concert.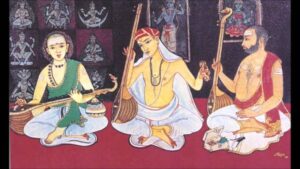 Kriti consists of Pallavi, anupallavi, charanam.
Pallavi. This is the equivalent of a refrain in Western music. One or two lines.
Anupallavi. The second verse. Also two lines.
Charana. The final (and longest) verse that wraps up the song. The Charanam usually borrows patterns from the Anupallavi. There can be multiple charanas.
Chitraswara consist of only notes and no words this kind of song is called as Kriti.
Other compositions have a verse at the end of the charana, called the madhyamakāla. It is sung immediately after the charana, but at double speed.