An instrument that is used in classical and folk music is the nadaswaram which is an instrument made of wood and metal and it can be played by blowing wind.
This instrument is accompanied by thavil (a drum). Nada means pleasant sound and Swaram means note.  The sound which is produced is considered auspicious and is played during occasions of festival or temple concerts.
The nadaswaram is played through breathing control and therefore it's a little difficult to master it because many semitones and notes are achieved by forcible breathing of the instrument.
Shehnai is smaller when compared to the nadaswaram.   In the open-air temple feasts, it is played. Along with Thavil, the nadaswaram with its penetrating tone is ideal for partner duets.
In Hindu marriages and temples in South India, nadaswaram is considered auspicious and is played. It belongs to Mangala Vadya ( auspicious instruments) which is usually played in pairs.
The aacha's wood is used to make the nadaswaram which has three parts namely, kuzhal, thimiru, and anasu.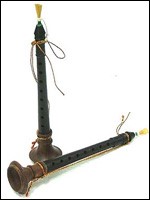 Ebony is used for making this double-reed instrument which has a conical bore enlarging towards the lower end. There is a small metallic cylinder or Kendai which has the mouthpiece and additionally there is small ivory or horn needle attached to nadaswaram to clear the air passage.
This instrument is suitable for open spaces rather than closed indoor playing. Namagiripettai, Sangita Kalanidi Thiruvizhimizhalai Subrahmanya Pillai, and Karukurichi Arunachalam are some of the greatest music exponents of the nadaswaram.