Kanjira belongs to the family of the tambourine and has emerged from South India. It has been known by different names like: ganjira, khanjiri and khanjari.  It produces a unique resonant sound due to the bells or zils which are inside the frame.
The frame usually measures 17 to 19 cm in diameter and 6 to 10 cm in-depth and is made out of a jackfruit tree. Monitor lizard skin or goatskin is used to cover the frame.
The Kanjira is played by palm and fingers. It is made of jingles which are small metal discs made of old coins that ring. It is held vertically and the musicians strike with one hand.
Kanjira was used while singing bhajans and also in Carnatic music as a support to the mridangam
The root of the word is kanja meaning skin and jari meaning anklet which means skin with bells.it was used as a folk instrument and for weddings or celebrations.
Manpoondia Pillai developed the Kanjira for being just a single set of jingles to an instrument with lizard skin which produces a sophisticated technique in playing.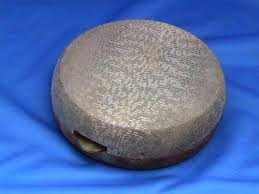 Since the 19th century, the kanjira remains unchanged in its simplicity and construction. Although size and materials used have been changed.
To play the kanjira, one must hold the kanjira properly in one hand, the closure of the side of the drum frame. Traditionally, monitor lizard skin is used to close the side of the frame but nowadays the players choose the goat skin.
It produces varieties of sounds and pitches. It depends on the difference in design or materials it's better to learn the techniques before deciding the type of drum.
The mastering of kanjira makes playing the instrument satisfying for the learner to learn and play the instrument.