Sarangi is a very refined bowed instrument used in North India.IN the mid 17th century it became popular in the folk tradition as a component of vocal music. It is derived from Seh (Persian meaning three) and (Sarangi meaning colored). It is also known to mean a hundred colors which represent its flexible tunability. In Sanskrit, Sarang means spotted deer. In Nepal, it means seven colors.
The sarangi is made of Indian Cedar and measures up to 64 to 76 cm in length. It consists of a squat, truncated body. Its a rectangular bed with a goatskin on elephant-shaped ivory bone resting on fretless neck.   The four bone bridges suspend the strings. The sympathetic strings are attached at different notches. Six strings are attached to the two bridges each. The bow is held by an underhand grip that is made up of rosewood or ebony and it's heavier than a violin. This effects the quality of the tone.
The sarangi was not used widely because of its complexity. In the 19th century, it was a less standardized instrument.
The tone and quality of the music is determined by setting the placement of the bridges, the thickness and height of the strings and also the fitting of the pegs.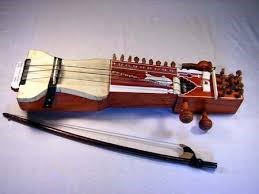 There are two sets of sympathetic strings and one drone strings. The tuning of the basic playing strings is done. The sympathetic strings create special sounds which take a lot of time for tuning. Normally, the side sympathetic are tuned chromatically, and the upper sympathetic are tuned to the notes of the rag.
The sarangi is stopped by the back of nails and powder is applied on palms to facilitate easy sliding on the neck. Undernad grip is required to hold the heavy bow and in between the hair and the stick, the first and second fingers are placed. Horsehair is used to make the bow which is held in the right hand while the left hand is used to stop the strings.
It is difficult to practices as constant practice leads to callousing and grooves in the fingernails. The melody string s of the sarangi is stopped by the cuticles of the upper nails or the skin above the nails of the left hand.
The players play this instrument as they have inherited from their elders through experience as they were passed on from their grandfathers.