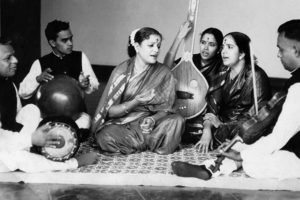 Date of Birth: 16 September, 1916
Place of Birth: Madurai, Tamil Nadu
Birth Name: Kunjamma
Date of Death: 11 December, 2004
Place of Death: Chennai, Tamil Nadu
Profession: Carnatic singer
Spouse: Kalki Sadasivam
Father: SubramaniaIyer
Mother: Shanmu kavadiver Ammal
Awards: Bharat Ratna, Ramon Magsaysay Award, Sangeet Natak Akademi Award
The flawless singer, Madurai Shanmukhavadivu Subbulakshmi is the first singer to be presented with India's highest civil honor, the Bharat Ratna. She was the first Indian musician who was awarded Ramon Magsaysay Award ( Asia's Noble Prize.) she is addressed asM.S by her fans. She was an expert in Hindustani classical music as well as a famous exponent of Carnatic music . she was even a great actress as well.
Childhood
She started learning Carnatic music at an early age. Her grandmother was a violinist and her mother a veena player. The conversations with famous musicians like Karaikudi SambasivaIyer, Ariyakudi Ramanuja Iyengar, and Mazhavarayanendal Subbarama Bhagavathar. she chose this path due to tot the great exposure she had with music and musicians.
Education
She started being trained by her mother Shanmu Kavadiver Ammal and went to learn Carnatic music from under Semmangudi Srinivasa Iyer and then she mastered Hindustani music from Pandit Narayan Rao Vyas.
Career
At the age of eleven years, In Tiruchirappalli at Rockfort Temple, she gave her first public performance.in 1929 she performed at the Madras Music Academy. After the performance, the Madras music academy was impressed by her knowledge of music and invited her to sing bhajans and by 17 years she became an attraction in all the concerts.
Foreign Trips
She was an ambassador and went to many foreign festivals representing our country. She was invited to Scotland and UK and New York where she showcased her musical talent. At Royal Albert Hall in London in the year 1982, she got a chance to perform. The Russian government also invited her to perform at the festival of India held in Moscow. She also traveled to Canada and eastern countries.
A Date with Cinema
The movie called Sevasadanam gave her a chance to prove her acting talent as well. Her second movie was Shakuntala and Savitri was her third movie. She quit films after the movie Meera.
Famous Works
Suprabhatam, Bhajagovindam, Kurai Onrumillai,  Suprabhathnu Sahasranama, Hanuman Chalisa, etc are the most famous works of M.S Subbalakshmi.
Awards
Bharat Ratna, Ramon Magsaysay Award, Sangeet Natak Akademi Award, Sangeetha Kalanidhi, Sangeetha Kalasikhamani, Kalidas Samman, Indira Gandhi Award are a few of her awards given for her impeccable talent.
Humanitarian Works
She had performed in over 200 charity concerts and donated most of her prize money to charity. She had donated the royalties achieved by her to many charity organizations.
Death
As she had passed away on 11th December 2004, her mortal body was consigned to flames in full state honors. Even APJ Abdul kalam and all the leaders also had paid their homage.