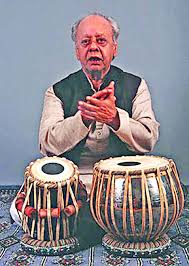 Ustad Allarakha Khan was fascinated with tabla right from the age of 12. He was born on April 29, 1919 in Jammu.  He ran away to be a disciple of Mian Qader Baksh from Punjab Gharana, who introduced him to music. From Ustad Ashiq Ali Khan he learned Raag Vidya'.He worked very hard and practiced cultivating his skills. He even gave music for Hindi movies. He would accompany Pandit Ravi Shankar. He was a soloist percussion wizard, prolific composer, and an electric showman.
The art of playing tabla was made popular by Ustad. He bridged the gap between Hindustani and Carnatic music. His hands produced the tenor and tempo of India's unique musical culture.
He wanted to teach the western world the beauty of Indian music.
He is survived by his wife Bavi Begum, three sons, Zakir Hussain, Fazal Qureshi, and Taufiq Qureshi, his daughter Khurshida Qureshi, and nine grandchildren.
Ustad Alla Rakha was honored on his 95th birthday (April 29th, 2014) by search giant Google with a classy doodle. The doodle depicts Ustad Alla Rakha tapping the tabla with a smile on his lips. The two O's on the Google logo are turned into a tabla.