The Manipuri dance arose from a small region which is covered with hills giving you a geographical solitude. The Manipuri dance originated from rich tradition and cultural background from the region of Manipur a place in North Eastern State of India that is surrounded by hills on all sides.
King BhagyaChandra designed the dance costume of the Manipuri dance. The dance became popular because of the continuous efforts of Rabindranath Tagore and many other gurus.
This dance form intensely devotes to Lord Vishnu  under the ideology of Vaishnavism.It is a devotional dance which is religious and increases the spiritual awareness in an individual. Rasleela is  the central theme of this dance which arose from the cult of Radha and Krishna. The music resembles the Hindustani music but there is a difference in the ragas and presentation. The musical instruments of the Manipuri dance are Mridangam, the cylindrical drum, harmonium, basuri, shankh pung and manjira. The pung and manjira are used even in the dance. The culture and tradition of the Southeast Asia also can be witnessed in this dance because the Manipur valley is surrounded by Nagaland, Assam and Myanmar.
The 'meities' is the name given to the people of Manipur valley. They are related to the Vedic Times in their belief system. Therefore the tradition is alive due to the Sanamahis. Hinduism was adopted in Manipur in the 15th century. Therefore the culture and tradition is interwoven with Hinduism and is reflected in the dance.
.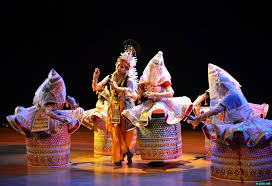 Thangta is the martial arts which include the solo and group exercises. The exercises which involve the body and have hand moments is characteristic feature of all the Manipuri dances. The floor patterns and the body movements are made in the shape of an eight. This gives a spiral like movement this type of dance technique is new for the Indian subcontinent where the dancers display a serpentine gait.

The female dancers show the characters of cowherd girls and Radha which are very graceful and even the playful Tandava style is portrayed in the most energetic manner. The Manipuri dance even focuses on group choreographies which include acrobatic jumps and leaps.
To lean music or dance online, please contact us at Kalapeet.