Pakhawaj is a musical instrument that is modified a little bit in the case of Mridangam, a south Indian instrument. It is similar to Pakhawaj externally but the technique and construction are different. The tone of the instruments is also different from each other because the construction is different.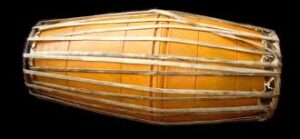 The mridangam has an annular membrane around the right side which is heavy .
There are a lot of pieces of straw placed radially in between the annular and the main membranes.
The soru or karanai is the permanent application on the right side.
A mixture of flour and water is used on its left side to provide a proper tone. The applied mixture should be removed after every performance.
Upon the wooden shell which is barrel-shaped, the lacing and the heads are placed. Jackwood is used mostly. from the annular membrane, the straw is seen slightly protruding.
A small wooden block and a heavy stone are used to tune the instrument. Against the rawhide weaving, the block is placed and struck with a stone. To lower or raise the pitch, one has to change the manner of striking. The tuning done depends on the tonic quality of the piece that is performed. The below illustration shows the technique and posture which is needed to play the instrument. When a person wants to play, he needs to sit cross-legged with the left foot below and the right foot over and slightly extended. On the player's right foot and ankle, the mridangam rests. The cloth is usually placed at the right foot to provide cushioning as the instrument is too heavy. The left-hand plays the head of the instrument where the mixture of flour is applied while the right-hand plays the smaller head. for classical south Indian performances, the mridangam is an essential component. With the help of mridangam, the artist can play intricate patterns to go hand in hand with the vocalists, the veena violin, or gottuvadyam players. it requires a lot of time to master to play this marvelous instrument.