The Sitar is a pear-shaped instrument of the lute family. This instrument has a long, wide hollow wooden neck along with front and side tuning pegs and 20 arched movable frets. It is very popular in Pakistan, northern India, and Bangladesh. It has metallic strings and are five in number and has two drone stings to control the rhythm and the pulse. There are about 13 sympathetic strings that are tuned to the raga. It measures up to 1.2 meters.
The neck has convex metal frets and it moves freely. Under the pegbox which is at the end of the neck. It has a resonating gourd. This provides support when not played. The sitar is held at a 45° angle as they sit to play. The player plays a wire plectrum on the right forefinger and plucks the strings and with his left hand, he manipulates the stings with pressure.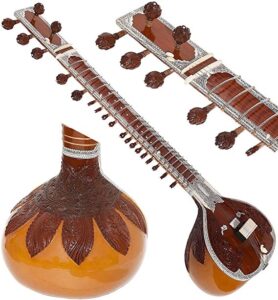 The sitar is derived from the Persian word shetar which means three-stringed. The sitar originated in the 16th and 17th centuries and modified to the present form in the 18th century. It is used with tambura and tabla in Hindustani music.
In the year 1960, the instrument which is best in the South Asian lutes, has influenced many rock performers. Norwegian wood a song by George Harrison played sitar. Few other musicians used electric sitar without changing the primary tone of the sitar. Anoushka Shankar became a renowned sitar player in the early 21st century.
Many artists are responsible for the modifications and overall changes in the Sitar. Ravi Shankar and his disciple Allauddin Khan and Vilayat Khan are the merit artists of Sitar.