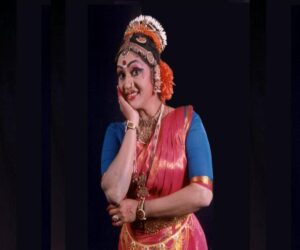 About The Artist
Sobha Naidu was the most idolized dancer in the culture of India. She had mastered the techniques of Kuchipudi from one of the greatest masters, Sri Vempati Chinna Satyam. At a very young age, she became the lead dancer. She was a part of her Guru's dance troupe and performed the roles of Satyabhama and Padmavati all over the world and became an eminent person. She was a perfect solo dancer as well. Later on, she became the Principal of Kuchipudi Art Academy at Hyderabad and trained several students over the past few years. In the year 2010, the school completed 30 years of its establishment. Several dance-dramas were choreographed by the paramount dancer- Sobha Naidu. She had received the prestigious title- Nritya Choodamani from Krishna Gana Sabha at Madras.
Early life
In the year 1956, the eminent dancer took birth in Anakapalle of Vishakapatnam district, AP. She successfully completed her graduation from Queen Mary's college.
Though her family opposed her, Sarojini Devi (Sobha Naidu's mother) made it possible for her to be trained and tutored by P.L Reddy at Rajamahendravaram. Then she underwent rigorous training under the dance legend Sri Vempati Chinna Satyam.
Awards and achievements
As a result of rigorous sadhana, she became famous for playing portraits of Sathyabhama, Padmavathi, and Chandalika. In her entire lifetime, she choreographed 80 solo numbers, 15 ballets, and trained over 1,500 students not only from India but also from other countries.
Sobha Naidu was the most popular Kuchipudi artist all over the world through TANA. She represented India at various multinational cultural events in counties like U.K., U.S.S.R., Syria, Turkey, Hong Kong, Baghdad, Kampuchea, and Bangkok. She had led a delegation to West Indies, Mexico, Venezuela, Tunis, Cuba followed by a visit to West Asia on behalf of the Indian government.
She had received many prestigious awards which are as follows:
Padma Shri award in 2001[5]
Nritya Choodamani award in 1982[2]
She had bagged the famous Sangeet Natak Akademi Award for her contribution to Kuchipudi dance in the year 1991
Nritya Kala Siromani award in 1996
Sri N T Rama Rao award in the year 1998
AP State Government Hamsa Award
Sobha Naidu died 14 October 2020 at the age of 63. Even though the great artist left the world, she left her memorable footsteps in the field of art.
Let's take a glimpse at this great dancer in her act by watching a video.